Stadium LED Display
Application
Stadium LED display, also called stadium LED screen or perimeter LED display, is widely used in football fields, baseball fields, tennis courts, and so on. This kind of LED video display, screen, panel, curtain, or wall can vividly play items such as text, picture and video. It can realize play of clear information at the same time.
Performance
1. Automatic Backup System
Apexls stadium LED displays could utilize two computers to ensure interruption-free display of images and videos. If one unit was to turn off due to technical issues, the other one will automatically act as a backup solution.
2. High Refresh Rate
The refresh rate of our stadium LED screen can reach 4800 Hz. It can display flicker-free video images, including live sports video.
3. Impact Resistance
Stadium LED display adopts specially designed soft module masks, which can offers protection to the unit itself and protect players from injury.
4. Unique Design
The cabinet is designed with adjustable inclination angle (75°-90°), enabling all the audience to enjoy the display contents.
5. Real-time Performance
Our stadium LED screens use high-effective optical fiber transfer system that is designed to ensure speed update of information and the uniformity of images.
6. Outstanding Performance in All Weather
With IP65 protection grade, our stadium LED displays can be protected away from rain or water damage and work steadily in rain.
Characteristics of Stadium LED Screen
1. This kind of LED video display, screen, panel, curtain, or wall is designed uniquely, which ensures simple installation and convenient transportation.
2. Our company is able to supply stadium LED displays with high stability, high reliability and long service life.
3. It is compatible with a variety of signal input, such as AV, S - Video, DVI, VGA, HDMI, SDI, and so forth.
4. We make use of wooden cases to package stadium LED screens for protection.
5. Our stadium LED display is designed with high grey level (grayscale) and high refresh rate. The grey level is more than 4096 and the refresh rate is over 800 Hz. All these make it show images without any delay and ghosting phenomenon.
Dimension of Stadium LED Screen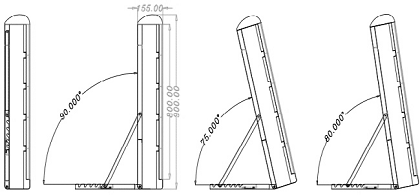 Technical Parameters of Stadium LED Display
Model

PH10

PH16

Pixel Pitch

10 mm

16 mm

Pixel Composition

1R1G1B

1R1G1B

Pixel Density

10000 pixels/m2

3906 pixels/m2

LED Encapsulation

DIP 346

DIP 346

Scanning Mode

1/4

Static Scanning

Screen Luminance

≥ 7000 nit

≥ 7500 nit

Average Power of Single Cabinet

186 W

223KW

Max. Power of Single Cabinet

432 W

516 W

Service Environment

Outdoor

Outdoor

Resolution Ratio of Single Cabinet

96*80

64*64

Cabinet Size

960 mm*800 mm

1024 mm*1024 mm

Area of Single Cabinet

0.768 m2

1.048576 m2

Refresh Rate

800 Hz-10000 Hz (It differs depending on driver chips.)
Shenzhen Apexls is a professional manufacturer and supplier of LED video display, screen, panel, curtain, and wall in China. Company is located in Shenzhen Baoan district with China's most populated LED enterprises. It takes about 20 minutes to go to Shenzhen international airport. Our company is also adjacent to the Guangshen Highway and Nanguang Highway, so we enjoy very convenient transportation. Our stadium LED displays have been exported to Asia, Europe, the Middle East, North America and other regions. We also set up sales branches and authorized service agencies in many areas across the country and many foreign countries. If you want to buy our stadium LED screens, please contact us by email or phone.